New author's book gathers enthusiastic endorsements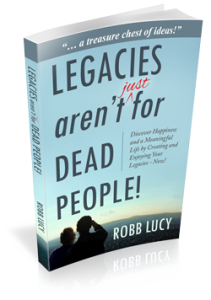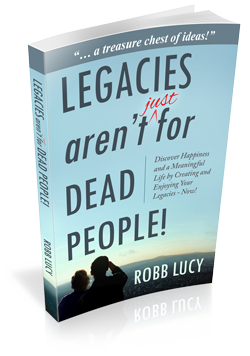 Robb Lucy's first book – "Legacies aren't just for dead people" – has collected positive comments from senior members of groups such as AARP, CARP, Rotary International, corporations, foundations and other authors. It's been called "…a must read", "…a terrific book", "…a wonderful gift" and "a treasure chest of ideas!"
Lucy takes on the heavy concept of 'Legacy' and gives the reader hundreds of stories and strategies so they can create a variety of legacies now, rather than waiting to hear from their eulogist what their legacies are.
"In my public forums, people wanted to know what they could create" says Lucy, a former journalist and producer with much experience in the non-profit world. "When they tap into all they've got to give, all research says they'll be the happiest among us."
"Everyone can create legacies that make life more meaningful" says Lucy. "It's not about money. You don't have to be rich, or famous… or dead!"
Says Mike Harcourt, former Premier of British Columbia – "It's a punchy read with excellent advice."
The book is available at Amazon.com in both print & Kindle form.
For more information, contact Robb Lucy @ 604-874-7700, [email protected]