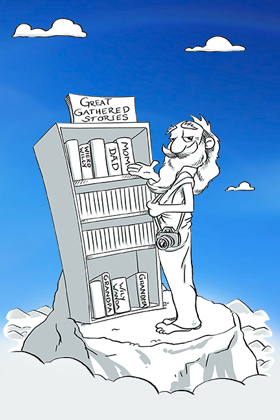 You know that time can work against you.
You should collect the story of that special person, but you haven't had the time.
POOF – the opportunity is gone. The Legacy Clock struck first. Time won.
Robb Lucy's company, Engage Communications Inc., has 40 years of experience in story-finding… and story-telling.
Let us help create your legacy stories with these options:

Legacy Letter: The story of You – your values and the stories of how you lived them. And much more if you like: triumphs, lessons, beliefs, hopes…

Legacy Memoir: A full exploration of one important part of someone's life: military, career, family…

Legacy Life: A broad look at a full life and all that it contained: family, career, successes, military, travel, highlights, awards, challenges, life's lessons, love…

Legacy Event: A gift to a person celebrating one of life's highlight events, e.g. birthday, wedding, anniversary. Comments from friends and family, images, narrative, graphics, music.

Robb Lucy – A memorable speaker. Robb grips his audiences with laughter, tears, memorable stories, and most importantly, valuable how-to's to build new legacies immediately. Your corporation, foundation or learning organization will love the way Robb stirs your legacy story imagination!
---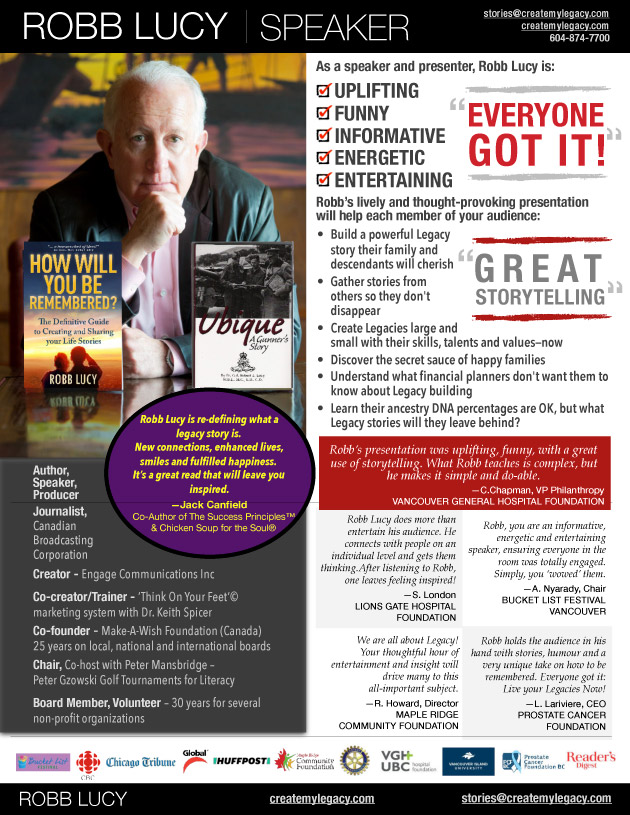 Like to read the first chapter? Click HERE
Like your own copy (paperback or Kindle)?